Family Tree 2010 Achievement Awards
Who Do You Think You Are? LIVE, Olympia, 2010, seemed to be buzzing with activity, with a continual round of workshops to attend and stalls to visit. A highlight of the Family Tree weekend were the Family Tree Achievement Awards 2010, which were presented to individuals, each of whom have made a valuable contribution to the family history world over the past decades, by helping to make historical records more accessible to family historians.
There was Guy Etchells, who has played an invaluable role in campaigning, under the Freedom of Information Act, for the early release of the 1911 Census returns for England and Wales, and, more recently, for public access to the 1939 National Register.
Nigel and Sue Bayley, of S&N Genealogy Supplies, received an award for the extensive family history digitised resources they have made available, both their vast range of CDs and their online census and parish records and much more, at www.thegenealogist.co.uk.
Finally, for her extremely useful range of publications, was Eve Mc Laughlin. The first of her family history guides was published 30 years ago, and today they cover all sorts of topics, each helpful and very reasonably priced, meaning that expert advice is within reach of everyone's pocket.
With pre-booked tickets sold out for the Saturday (27th Feb) at least a week before, it is very encouraging to see that family history, as a hobby, continues to be so popular.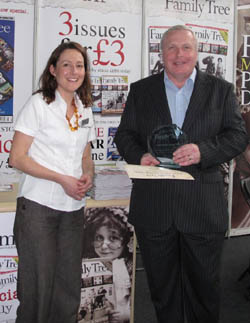 Above: Nigel Bayley with Family Tree Magazine Editor, Helen Tovey.