'Start with yourself and work backwards' is the golden rule for genealogical research so once all the information has been gleaned from other family members, the first steps for most researchers are likely to be in the statutory Births, Marriages and Deaths (BMD) Indexes.
TheGenealogist, at www.thegenealogist.co.uk, offers access to these births, marriages and deaths indexes 1837-2005 along with a range of other resources for these life events, including exclusive online access to non-parochial registers. The website also has a huge range of other material such as census returns, parish registers and wills so a subscription can give you access to a wealth of resources.
A Personal Premium account gives you access to all the databases on an ongoing basis for six months for £44.95, or an even better value £78.95 for 12 months. Alternatively, a Personal Plus account gives credits up to an annual 800 credits for £55.95. Any unused credits can be carried over or extra ones purchased. One welcome option if the pay-as-you-go subscriptions for a specific database. For example, you can buy credits for the statutory BMD indexes 1837-2005 for as little as £5. As always, you should check carefully what any subscription buys before you choose.
Once you've made your choice and logged on, you will find yourself on the Research View page. Scroll down to the box labelled Birth, Marriage & Death Indexes. Click on Choose and the drop-down list wil offer BMD Indexes 1837-2005, BMD Registers, Overseas BMDs, Overseas Marine Deaths, World War 1 Deaths and World War 2 Deaths.
Statutory BMDs 1837-2005
We generally have information about parents and grandparents but with great-grandparents things usually become less certain. Statutory registration began in England and Wales on 1 July 1837. Births and deaths were registered with the local registrar who passed the records to the district's superintendant registrar and he sent the records every quarter to the Registrar General at the General Register Office. Marriage records were forwarded from the church copies every quarter and from all these records national indexes were created.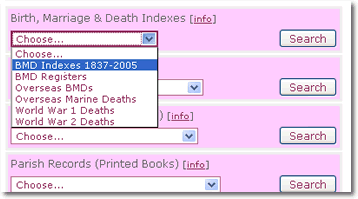 Each year is divided into four quarters within the seperate births, marriages and deaths indexes until 1984 when the records are on a searchable database for each year. From the September quarter of 1911 the mother's maiden name is included in the birth index and from the March quarter of 1912 the spouse's surname is included in the marriage index. For deaths, the age at death is included from the March quarter of 1866 until the March quarter of 1969, but from June 1969 the date of birth is given. All these can help with identifying the correct entry.
Selecting BMD Indexes 1837-2005 and clicking on Search takes you to the search option page. Choose births, marriages or deaths as appropriate, enter the first name or just an initial plus the surname then select a range of up to five years which you think will contain the record you are looking for. Submit your search then scroll down to see links to the relevant quarter pages which should contain that name. You can view the image of an index page and/or download it to a disc. Some surnames can run across more than one page, even for the same forename initial, so use the 'next' or 'previous' option.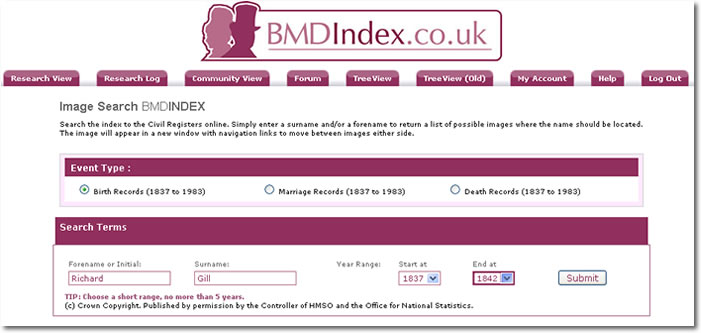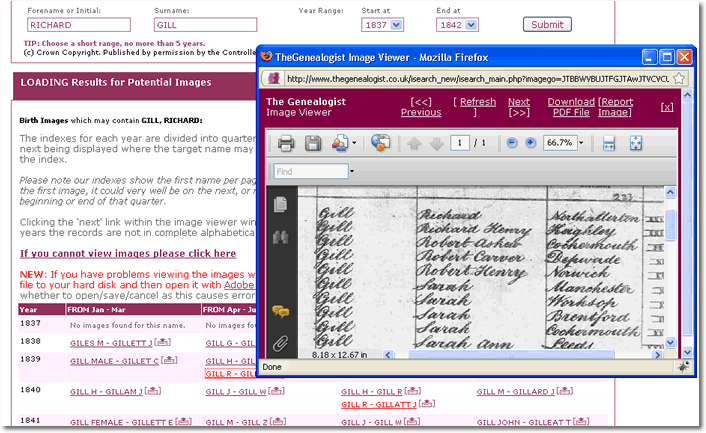 Search more recent records with the 1984-2005 option which allows a search across all the years. Extra information can be added in the Advanced Search. For births this allows you to include a second forename plus other initials, the mother's maiden surname, the month and year of registration and the district. For marriages you can include the spouse's surname. The death search allows you to enter the date of birth, is known. Make use of the interesting Smart Searches available for the 1984-2005 period. For example, you can search for all children born to a couple by using the father's surname and mother's maiden surname or find details of the spouse in the marriage index.
Once you have identified the right entry you can order certificates through www.direct.gov.uk/gro or from the appropriate local Register Office.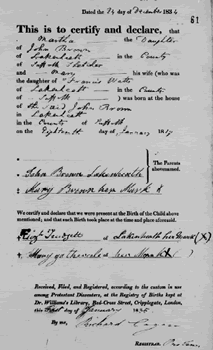 Mary was delighted to discover her ancestor Martha Brown's handwritten birth record (above) with some valuable extra detail.
BMD Registers
The second option in the Birth, Marriage and Death Indexes drop-down list contains the wide range of Official Non-Parochial Records. This is a fantastic resource and is exclusive to TheGenealogist. Not all our ancestors will have been members of the Anglican Church and records of births, baptisms, marriages, deaths and burials are available here for Methodists, Wesleyans, Baptists, Independents, Protestant Dissenters, Congregationalists, Presbyterians and Unitarians. In addition there are Quaker records and the registers of Clandestine Marriages and Baptisms in the Fleet Prison, King's Bench Prison, the Mint and Mayfair Chapel ranging from 1667 to around 1777.
Other non-parochial records include the Worldwide Foreign Marriage Returns and the Registry of Shipping and Seamen: check the website for details of these and other resources. (You can also access these records through the Non-Conformist & Non-Parochial Records section on the Research View page.)
Select BMD Registers from the drop-down list and click on Search. Enter forename and surname, choosing exact match if required, then opt for either 'All' records or one of Births and Baptisms, Marriages, or Deaths and Burials. More precise information, which limits the number of hits, it entered in the Advanced Search: choose a specific set of records and add a place and range of years. You can use a wildcard after two characters.
From the hits returned you can view a transcription of the information or, better still, opt for an image of the actual entry. One bonus with these records is that you often get more details than with the parochial registers. Having unexpectedly found a birth record for my 2x great-grandmother, Martha Brown, in Lakenheath, Suffolk in the 1817 Protestant Dissenters' Registers, I was delighted to find not only her father, John Brown, thatcher, but also 'Mary his wife (who was the daughter of Francis Watts...)'. So not only her maiden name but also her father's forename!
Surname Site Tool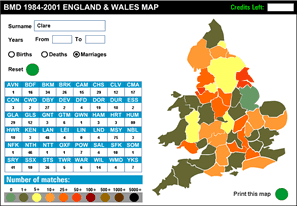 Make use of the Surname Mapping Tool which has a link from the BMD Indexes 1837-2005 page. Based on BMD Entries for your surname, you can see the concentration and distribution of that name and watch it changing across England and Wales during roughly 20-year periods from 1880 to 2002. Click on Launch Mapping Tool, enter your surname and choose the period you want to illustrate, then click Search. The map will show the distribution across the country, county by county, with colours ranging from green for no entries to black for 5,000+ entries. In addition there is a table with the exact number of entries for each county.
You can print off the maps for each time period. It's a fascinating excercise and can produce suprises. Having tried a couple of fairly unusual family surnames I was suprised to see that the distribution was not always concentrated where I had expected.
Overseas BMDs
This section contains a range of resources from the General Register Office's Army, Marine, Air Force, High Commission, Regimental, Consular and Ionian Islands births, marriages and deaths. Details include name, regiment, vessel, station, location or consulate together with the volume and page number. The search allows you to enter the forename and surname, including nicknames and variants, and to select the search section while the Advanced Search adds Ship or Unit and year. From the list of hits you can view an image of the index page contaning that entry.
Overseas Marine Deaths
Deaths at sea on ships registered in Great Britain and Ireland from 1 July 1837 are found in the Marine Registers. The search form is similar to that for the Overseas BMDs and again you can view images of the page from the index.
World War 1 Deaths
More than 700,000 death records from the First World War can be searched here. Enter the forename and surname and choose to search Army, Army Officers or Naval Ratings. Add the Ship of Unit, year and Rank or Rating in the Advanced Search. View the image of the page which gives name, rank, number, unit, year, volume number and page number.
World War 2 Deaths
This section has more than 270,000 records and allows you to search Army, Army Officers, Indian Services, Naval Officers, Naval Ratings and RAF records. The Advanced Search offers extra options and as always with TheGenealogist you can view an image of an index page.
Searches on TheGenealogist return precise hits and you can always view images. There's a useful Help link and the Community View link includes articles, a Forum and a Research Guide and Search Strategies link. A great website and excellent value for money.

Use TheGenealogist.co.uk - Part 1 - Part 2 - Part 3 - Part 4