Army List - March 1892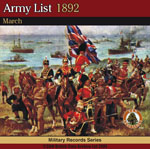 Buy it for...
Army officers at the end of the 19th Century
Publisher: S&N British Data Archive
w. www.genealogysupplies.com
t. 01722 716121
Price: £14.95
This CD from S&N Genealogy stands at over 1,700 pages, and contains an Army List from 1892, when the British Army was engaged in various conflicts across the Empire, from South Africa to East Asia.
The PDFs are digitally enhanced images of the original text, which lists the names of each officer in the Regular Army, infantry, cavalry, artillery and Territorial Army.
The CD is well bookmarked with units and regiments appearing seperately on the side for easy accessibility, but if you are unaware of which your ancestor served in, you can easily search the index for names. All the pages are also fully printable, so you can keep copies of any finds you might make.
Details for each entry is sadly limited to name, regiment and rank, but once you know these you can find out what theatres of conflict your forebears were involved in. For example, you might be able to find ancestors who went on to fight in the Boer Wars eight years later, and maybe some junior officers who remained in the military until World War 1.
This is a powerful addition to S&N's formidable military CD arsenal.