Deeds that Thrill the Empire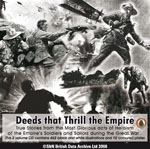 Buy it for...
Tales of British heroism in World War 1
Publisher: S&N British Data Archive
w. www.genealogysupplies.com
t. 01722 716121
Price: £19.95
With the sub-title "True Stories of the Most Glorious Acts of Heroism of the Empire's Soldiers and Sailors during the Great War", you can guess that this isn't your run-of-the-mill data CD.
The CD contains two volumes, each over 400 pages long, with stories of Britain's World War 1 soldiers and sailors who committed acts of bravery and heroism among the slaughter of the trenches and hunting grounds of the U-boats. Full details of the participants and their actions are given in narrative form and each page comes with a beautiful illustration to bring the tales to life. Though you cannot search automatically for any of your relatives who took part in these deeds, there is an index of names and ranks at the end of the second volume.
Even if you don't find family in these volumes, you may find that the subjects were in the same units or battle as your relatives. Most of all, the CD is simply a great read, and a tribute to the heroics of so many in WW1.