Chatham, Plymouth and Portsmouth Memorial Registers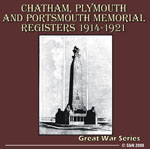 Buy it for...
Your fallen forebears on the south coast
Publisher: S&N British Data Archive
w. www.genealogysupplies.com
t. 01722 716121
Price: £17.45
Those looking for Naval ancestors who were lost to the sea during World War I and its aftermath will find an excellent resource in this CD from S&N, based around memorials in the maritime communities of Chatham, Plymouth and Portsmouth on England's south coast.
The main body is split among the three places, each of which is sub-divided chronologically. With brief introductions for each register, giving historical context and information on the memorials, the information includes some excellent detail of Royal Navy officers and men.
Each entry includes name, rank, the ship on which they served, immediate family, address, and details of when and how they died at sea. There's also an informative, illustrated introduction and though there isn't an index, the document is fully searchable, so finding your forebear os hassle-free.
Given that the sacrifice of Royal Navy personnel in WWI is often overlooked, this is a fitting testament to those who gave their lives, and a fantastically detailed resource.