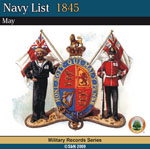 Navy List 1845 - May
From the date they entered service to the ships on which they served, this list includes the names of hundreds of mates, masters and commanders, split into easy-to-navigate chapters. Fully searchable and printable, this is a rich and valuable resource for family historians with links to Britain's seafaring history.

Somerset 1923 Kelly's Directory
If your family has links with Somerset, you can search the names and addresses of residents and businesses in this resource. The disc also includes searchable details of the history and geology of the county's town and villages.