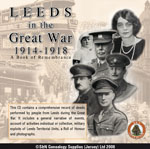 Leeds in the Great War 1914-1918
A searchable Roll of Honour may prove the main draw of this disc, taken from a document originally published five years after the conflict ended. The list is set in the context of an overview of the role local people played in the war and its impact on day-to-day life in the city.

London 1934 Post Office Directory
If you think your ancestors may have lived in London in the lead-up to the Second World War, there could be plenty of avenues to track them down with this two-disc set. The names of residents, tradesmen, council members and magistrates are all fully searchable and span more than 3,800 pages.