The War Illustrated
'Romance of Rail Power in the War'
- Article Feb '07
The ability to move troops, equipment and supplies easily during wartime is crucial and can drastically affect the outcome of a conflict.
During the First World War, trains were used for this purpose by most countries. Not only did they quickly distribute troops, but they also delivered mail and parcels from home, which would have improved the soldiers' morale, as would transportation home on leave.
The use of trains by all sides is discussed in this edition of The War Illustrated (Volume 4, number 88, 22 April 1916). Mobilisation of the troops is covered, as is the use of engineers to build and maintain tracks.
The box set containing all nine volumes (234 issues) costs £39.95 plus £2.50 UK p&p from www.genealogysupplies.com. Individual volumes are also available for £9.95 each plus £2.50 UK p&p.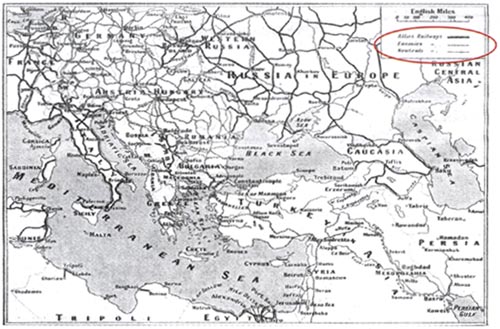 This map shows the rail network of Europe and Asia Minor at the outbreak of the First World War. Note the key (top right) showing Allied, enemy, and neutral tracks.