British Roll of Honour 1914-1916
This British Roll of Honour 1914-1916 CD features officers from the services who lost their lives in the early part of the Great War.
Arranged alphabetically, each entry displays a photograph of the officer and a short biography, which may include details of schools and universities attended, civillian occupation, clubs/hobbies and immediate family. The officer's military record, rank and battalion are given, with details of the battle in which he died, the circumstances and date of death. In many of the biographies there are moving tributes from fellow officers. Some detail the history of the regiment the officer was part of. There are also many quotations from poetry.
As well as providing information vital to the family historian, this roll of honour strongly evokes the atmosphere of the times. This CD is indexed, bookmarked and may be searched and printed.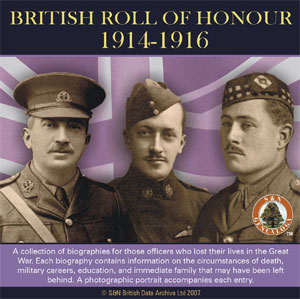 Compatibility: Adobe Acrobat Reader
Price: £17.95 plus £2.50 p&p
T: 01722 716121
E: sales@genealogysupplies.com
W: www.genealogysupplies.com
S&N Genealogy Supplies, West Wing, Manor Farm, Chilmark, Salisbury SP3 5AF