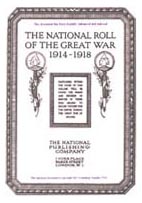 National Roll of the Great War Vol 1
The National Roll of the Great War series has 14 volumes, covering about 100,000 people altogether. Each volume concentrates on a particular geographical area, and this CD, volume one, includes the names and records of some of the people from North-West London who served in the First World War, whether in the armed forces, hospitals or factories.
Details included are enrolment date, rank, medals, a service summary, actions and posts. Ships' names, regimental names and home addresses are also included where relevant.
Scrolling through the pages, I noticed quite a number of entries for women, marked as being 'Special War Workers', which included jobs in munitions factories, as well as employment in the telegraph department of the Post Office and clerical work. I also noticed that some of the men listed has died in action, others were discharged due to injury, and others were presumably uninjureed. All this indicates that the material on the CD (whilst by no means comprehesive of veryone who helped in the war effort) provides an interesting and sifferent angle to a roll of honour (which concentrates on servicemen that died in the conflict).
The data is in the form of 378 pages of digital images, that are searchable, indexed, printable and bookmarked (by letter of the alphabet, A-Y, to make scrolling easier). They are viewed using Adobe Acrobat Reader, the PC version of which is supplied on the CD. Mac users can download Acrobat Reader from www.adobe.com.
This CD is available from S&N Genealogy Supplies, West Wing, Manor Farm, Chilmark, Salisbury SP3 5AF (tel: 01722 716121; web: www.genealogysupplies.com) for £14.95, plus £2.50 UK p&p.

Find Out More:
National Roll of the Great War - available from GenealogySupplies.com