Military Records come in a variety of forms - from those that contain names and details of those in the armed forces, to illustrated accounts of battles written at the time. S&N Genealogy Supplies offers a fantastic range of records on CD-ROM - here's a taster of the vital sources available to order at prices that won't break the bank.
BLOW-BY-BLOW PRESS COVERAGE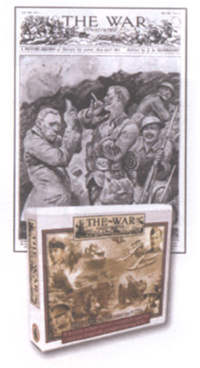 The War Illustrated and The Great War comprise essential reading if your ancestors fought in WWI. The War Illustrated on CD-ROM is the full nine-volume collection of the periodical which ran from 1914 to 1919. It stands alongside The Great War, a collation of another contemporary magazine, providing essential background information on World War I, stories from the frontline and hundreds of pictures. If you are interested in WWI then these magazines are fascinating to read and look through. Both give great insight into the war in terms of the experiences of the British and Allied soldiers, and also the changing shape of society at home. They also evidence the public need to document and analyse WWI, with its historically unprecedented loss of life and sheer geographic range of action.
The Great War

Each issue of The Great War is scanned in full colour and comes in a boxed set of 10 CDs containing 272 issues. Each issue is packed with marvellous photographs and illustrations which are included alongside information that was gathered by a team of war correspondents, both at the front and at home. The issues feature writing on all the conflicts supplemented by pictures and reports from behind enemy lines. Taking a sober look at the war, The Great War gives details of political decisions and their ramifications, specific battles and military manoeuvres, providing you with a sensitive and constructive overview of its general progression. The Great War provides a valuable insight to how the First World War was fought and comes complete with master place and name indexes.
The War Illustrated
The War Illustrated has a massive selection of photographs and illustrations, and so gives a greater pictorial background to events. More issues contain a roll of honour, listing war deaths with photographs of soldiers. Details of medals awarded for bravery or success are also included. Pitched to entertain as well as inform, its coverage is eclectic in range and tone, taking in many one-page incidents and human interest stories. Important battles and regiments that played a pivotal role are described in recurring features. The War Illustrated also boasts a selection of celebrity columnists, including Sir Arthur Conan Doyle and H G Wells. The war's progression by land, sea and air is detailed. With articles and photojournalism that take in every aspect of the war, the sheer scope of The War Illustrated makes it an immensely valuable document.
ROLLS OF HONOUR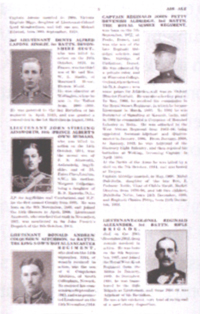 Rolls of Honour were published to commemorate those that fought in the Great War. There are many publications which come in a variety of categories: those that cover individual regiments, geographic areas, employees of a company, school old boys and even different occupational groups. These rare publications have been scanned and are now available on CD-ROM from S&N Genealogy Supplies.
National Roll of The Great War (14 Volumes)
One of the most useful sets on the First World War is the National Roll of the Great War. Comprising names and records of those who served during the Great War (1914-1919), the volumes that make up the set form the largest series of Rolls of Honour of British Forces in the First World War, with each volume covering men resident in the area, The National Publishing Company started to compile a brief biography of as many participants in the war as possible; many of the entries refer to combatants who survived the war and the national Rolls of Honour provide only the detailed information available. They include brief accounts of how men joined up along with their demobilisation date.
Bond of Sacrifice
This two-volume publication contains an alphabetical biographical record of all British officers who fell in the Great War during the period covered by each volume. Volume 1 covers August-December 1914 and Volume 2 covers January-June 1915, with portraits and including regiment-by-regiment lists.
PUBLISHED LISTS
These cover those men in both the regular armed forces and those in militias that protected various areas.
Militia Lists list men serving in the home militia while the regular Army was stationed abroad.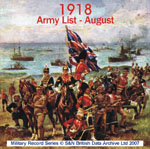 Army Lists on CD-ROM
Records of Army officers were kept as early as 1702. These lists named the officer, their regiment and, usually, the date their received their current commission and when they retired. The first official army list was published in 1740 and since 1754 they have been published as annual lists (1754-1879) and quarterly lists (1879-1922).
The Succession of Colonels gives a list of the colonels of individual regiments back to the date they were founded. In the 1700s, regiments were usually known by the colonels name but in later years they got their own regimental names and numbers. An outline of an officer's career is fairly easy to discover from official army lists.
Navy Lists on CD-ROM
These quarterly and annual lists give officers with dates of their seniority, together with historical information going back in some cases to 1796. Lists include promotions, medals awarded, civilian employees, ships, Royal Marines and rates of pay. The lists include active and retired officers of the Navy and marines, including offiers, instructors, medical officers, chaplains, engineers, and so forth.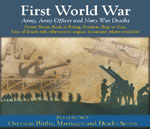 OVERSEAS DEATHS DURING THE WAR
These CD-ROMs comprise part of the Overseas Births, Marriages and Deaths Records Series available from S&N Genealogy Supplies.
First World War Deaths: Army, Army Officer and Navy War Deaths
This CD-ROM, priced at £29.95, provides information on:
Army Officers - name, rank, unit and year of death for Army Officers, along with reference to the original document (where available).

Other Army Ranks - name, rank, number, unit, year of death and reference to the original document (where available).

Naval War Deaths - name, rank or rating, ship or unit, year of deaths and reference to the original document (where available).
These records can help you trace what unit of which ship your ancestors served in and, for Army (other ranks), provide you with their service number. They are provided in alphabetical order as greyscale and black and white images of the original GRO microfiche.
For more details of S&N's extensive range of genealogy resources, contact:
S&N Genealogy Supplies
West Wing, Manor Farm
Chilmark, Salisbury
SP3 5AF
T 01722 716121
W www.GenealogySupplies.com
Second World War: Overseas Deaths in the Army, Navy, RAF and Indian Services
Priced at £29.95, this CD-ROM shows the name, rank, service number or rating, unit or branch, year of death with reference to the original document (where available). These records can help you trace what unit or branch your ancestors served in and provide you with their service number. They are provided in alphabetical order as greyscale and black and white images of the original General Register Office (GRO) microfiche.