Something about a sailor in 1915
The 1915 Navy List gives details of officers on the active list, alphabetically and by seniority, including instructors, medical officers, chaplains, engineers and so forth. It also lists officers and men who had been killed in action up to the time of publication.
There are details of ships and vessels of the Royal Navy (RN) of every kind: hospital ships, merchant ships, fishery cruisers used for special service, store ships, fleet auxiliary ships, small craft, plus ships serving with the RN from other countries, listing with their officers.
There is information on dockyards, educational establishments, the Coast Guard, the Royal Flying Corps, the Royal Naval Nursing Services, the Royal Naval Reserve, temporary officers and much more.
The CD-ROM is bookmarked by major headings and is fully searchable by whole or part name. You can enlarge the document and print it.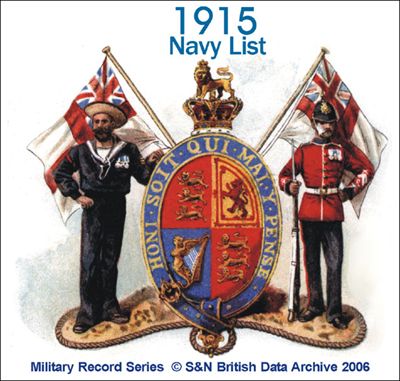 Compatibility: Adobe Acrobat Reader
Price: £19.95 plus £2.50 p&p
T: 01722 716121
E: sales@genealogysupplies.com
W: www.genealogysupplies.com
S&N Genealogy Supplies, West Wing, Manor Farm, Chilmark, Salisbury SP3 5AF