March 2007 Articles
---
Kelly's Directory of Wiltshire 1923 is both interesting and useful, with listings of private residents, a trades directory and a directory of towns and villages.
These sections include names, types of trade and addresses - all of which can help a family historian track down an elusive relative.
Although the directory is searchable, it is not advisable to rely solely on the search feature - browse the directory as well.
Other directories for Wiltshire are available from www.genealogysupplies.com and prices start from £9.95 plus £2.50 UK p&p.
---
TreeDraw specialises in creating charts. Family trees are imported directly into TreeDraw from Kith and Kin Pro, or from other family history programs by using a GEDCOM file. After importing the tree data, you can then rearrange the tree, ass extra text and graphics and insert background images and photos.
With TreeDraw you have full control over fonts, colour, size, shape and alignment of chart elements. Any changes to your Kith and Kin Pro database can be automatically changed on your TreeDraw chart to match. The scaling tool makes it easy to fit the chart onto a specified number of pages and your TreeDraw charts can be exported in several formats - PDF, metafile, and bitmap.
The full registered version of TreeDraw 3 costs £25.85 plus £2.50 UK p&p from www.genealogysupplies.com.
---
The box set of The War Illustrated containing all nine volumes (234 issues) costs £39.95 plus £2.50 UK p&p from www.genealogysupplies.com. Individual volumes are also available at £9.95 each plus £2.50 UK p&p.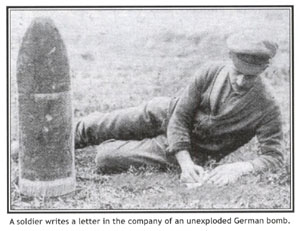 Volume 5, number 111, 30th September 1916
This issue starts with an article by a correspondant covering 'An unauthorised visit to the front'. In this article, war correspondant F A McKenzie tells of his journey to the front. After arriving in Dunkirk, McKenzie was taken to a French colonel who told him that he was not allowed to stay, as the area was under siege. Nevertheless, with the help of a guard, he managed to get to Furnes, where he came close to death from German shelling.
The interesting events during McKenzie's travels are embellished with descriptions of the war damage, lack of supplies, bedraggled refugees and survival under fire.
---
Find Out More:
Kelly's Directory of Wiltshire 1923 - available from GenealogySupplies.com
Tree Draw 3 - available from GenealogySupplies.com
The War Illustrated - available from GenealogySupplies.com
View more Records at GenealogySupplies.com