First World War Croydon
Originally published in 1920, Croydon and the Great War 1914-1919 is a remarkable compilation of the work of the citizens of Croydon during the First World War. It records details of many of the 25,000 Croydon men who went to war and those who supported them at home, including semi-military personnel and hospital staff, and civilians who raised money, sent supplies and ran the essential services.
There is a short history of Croydon before the war, a summary of events in Croydon and at the Front during the war, information about local regiments, the war committees and war work of the Borough, Armistice Day and the Peace.
The last section comprises a Roll-of-Honour with many portrait photos, including those who died, those who received naval and military honours, and returned prisoners of war. There are photographs and illustrations throughout. The CD is fully searchable, bookmarked and may be printed.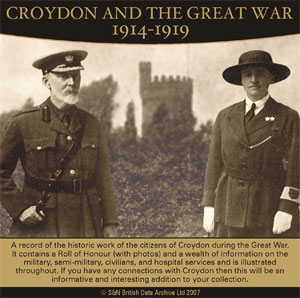 Compatibility: Adobe Acrobat Reader
Price: £19.95 plus £2.50 p&p
T: 01722 716121
E: sales@genealogysupplies.com
W: www.genealogysupplies.com
S&N Genealogy Supplies, West Wing, Manor Farm, Chilmark, Salisbury SP3 5AF