The War Illustrated
by Sean Brady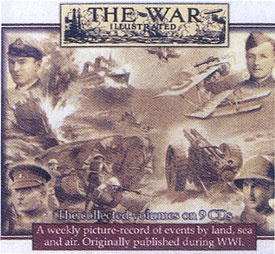 "Reviewing this CD on the eve of my visit to Ypres/lepers is coincidently appropriate. The nine CDs in the S&N Genealogy publication contain the 233 digitally enhanced and indexed issues of The War Illustrated.
The original magazine was a 'weekly picture-record of events by land, sea and air' of the First World War, from 22 August 1914 to 8 February 1919. It is unashamedly patriotic, but when you're fighting a war, that's to be expected.
Notwithstanding the propaganda, the magazine contains an amazing history of the period, an introduction by HG Wells and plenty of illustrations and photographs.
The cover price was 2d which enabled most working-class families to read it, and many did. I can remember seeing copies for sale in second-hand bookshops in the 1950s. Now I wish I's bought some of the magazines so I'm delighted to be able to see the complete collection in digital format."
The nine CD boxed set costs £39.95 plus £2.50 UK p&p.
It can be ordered online at www.genealogysupplies.com.
S&N Genealogy Supplies
West Wing, Manor Farm
Chilmark
Salisbury
SP3 5AF