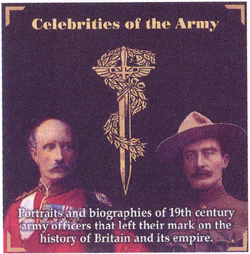 Celebrities
of the
Army
We usually think of celebrity as a modern invention, but this collected biography of the great 19th century soldiers shows who were the figures of public interest at the height of Britain's imperial power.
The CD contains scenned images from a book written by Commander Chas N Robinson, RN, and includes biographies of 72 high-ranking and prominent soldiers in the armies of the British Empire. It includes well-known figures such as Baden-Powell and Kitchener, and others whose names are now forgotten. Each man has a single page of text and a single colour portrait.
This publication will be useful to anyone with an Interest in the British Army in the late 19th century. The scanning is high quality and the CD is easy to use.
The CD costs £17.45 plus £2.50 UK p&p.
It can be ordered online at www.genealogysupplies.com.
Published by:
S&N Genealogy Supplies
West Wing, Manor Farm
Chilmark
Salisbury
SP3 5AF