Chatham, Plymouth and Portsmouth Memorial Registers 1914-1921
After the First World War, the Admiralty commissioned the erection of three identical memorials to those who had died at sea and who had no identifiable grave. These were placed in prominent sites in the home ports of Chatham, Plymouth and Portsmouth, and were accompanied by a register with information about the names on the memorial.
This CD of the registers, originally published in 1924, has for each memorial, a seperate list for each year with names listed alphabetically. It also contains photographs of the memorials and maps showing their location. Most names are also listed on the Commonwealth War Graves Commission (CWGC) website, but the printed memorials may have different or additional information. For example, Charles Moger is shown in the Portsmouth register for 1918 as killed in an explosion while in Dover Harbour, but this is omitted on the CWGC website.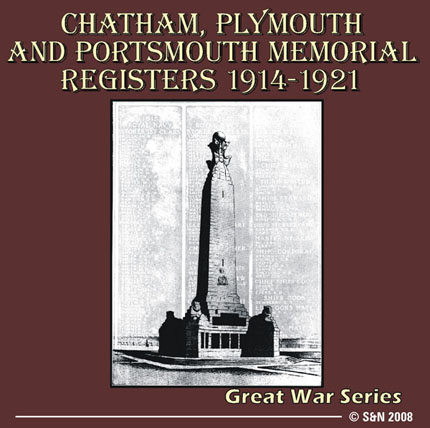 £17.45 plus £2.50 postage from S&N Genealogy Supplies Ltd at www.genealogysupplies.com, or by writing to S&N Genealogy Supplies, West Wing, Manor Farm, Chilmark, Salisbury, SP3 5AF.