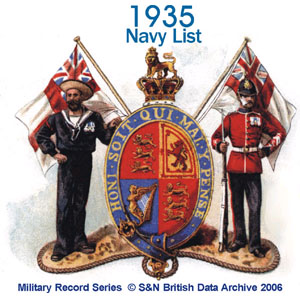 The Navy List is an annual listing of officers in the Royal Navy and Royal Marines. This one, from 1935, provides us with a snapshot between WWI and WWII. It contains an alphabetical list of names followed by a more detailed listing by rank, starting with The King, his aides-de-camp and equerries, and ending with naval cadets. Within each rank, the order is by seniority of promotion to that rank. Some of the names are gems: among the commanders is Leicester Charles Aasheton St John Curzon-Howe, who we are told has passed the staff course and holds campaign medals.
From the alphabetical list of ships, we can learn that this is the Royal Yacht, of 4,700 tons, based at Portsmouth, and with two 6-pounder bronze guns. In all, a fascinating work for anyone with a personal or general interest in the history of the Royal Navy and its officers.
It costs £19.95 plus £2.50 postage and can be ordered online at www.genealogysupplies.com or you can write to S&N Genealogy Supplies, West Wing, Manor Farm, Chilmark, Salisbury, SP3 5AF.