Indian Army & Civil Service List 1862
This directory details the British officers - both retired and on the active Army List - and civil servants who were serving in India in 1862. Listings are divided into Bengal, Madras, and Bombay and are then sub-divided into civil servants, retired officers, the Army List of serving officers, ecclesiastical and medical appointees, and lists of casualties. An army, navy and law department were also present in Bombay.
Details on each person varies, but typically includes names, appointment and commission dates, and job titles. Be warned through, the term 'casualties' is used broadly, and includes anything from deaths to those made invalid, retired, resigned or people who had been 'struck off'. Advertisements targetting those planning to live in India are also included.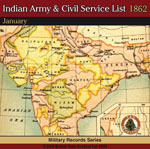 £17.95 (plus £2.50 p&p) from S&N Genealogy Supplies, West Wing, Manor Farm, Chilmark, Salisbury, SP3 5AF.
[t] 01722 716121
[w] www.genealogysupplies.com.
CD presented in Acrobat PDF
Mac and PC Compatible
Fully bookmarked & searchable