ONLINE - Software Review
Legacy 7 Deluxe
James Taylor assesses this new version of an old favourite
Version 7 of Legacy has been a long time coming, but it's been worth the wait. We're looking at the Deluxe edition, and among its new features are a mapping facility, improved charts, an easier and more consistent way of recording your sources, a relationship calculator, and much more.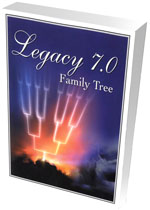 Features carried over from version 6 include its research guidance, which reviews and ancestor's timeline, indicates preliminary survey sources to find fellow researchers, provides a list of prioritised suggestions, and organises them into a to-do list (although the suggestions offered do seem rather generalised. The book report is still there, and in some reports you can selectively change the preposition for locations: you can have in Bedford but at Arden Lodge.
You could also use near, around, outside, north of, and so on. There's also an IF-THEN-ELSE command that can be used in event sentences better to control the output. A report unique to Legacy is the Multiple Lines of Descent Report, which builds a descendancy using several different lines, improving clarity and saving paper.
The screen interface will also be familiar to previous users as well as being intuitive to new users; seven tabs selecting a different screen each - Home, Family, Pedigree, Descendant, Chronology, Index and Research Guidance. The Home screen is used by Legacy's publisher Millennia as its shop window, showing Legacy news and links plus your own family information such as birthday and anniversary reminders, statistics, and to-do items.There's also an integral web browser.
The new SourceWriter offers a series of source templates to help you to select the right - or at least accepted - format, based on Elizabeth Shown Mills's book Evidence! Citation & Analysis for the Family Historian, the de-facto standard in the USA for source citations. An update adds 150 new SourceWriter templates for the UK, variously covering census records and birth, marriage and death certificates, from both GRO and local register offices in England, Wales, Channel Islands, and Isle of Man (but not Scotland).
"It's been worth the wait! Improved searching
lets you look for missing parts of names, BMD
information or source citations."
Improved searching lets you look for missing parts of names, birth or death information, marriage information and missing source citations, but you still can't search across all your notes. And as well as pictures, sounds, and video, you can now attach documents (PDFs, Word files) to individuals, events, locations, and sources. There's better housekeeping too, letting you backup your multimedia as well as data files, edit lists more easily, and conceal information you want to record but not share. And - without your intervention - Legacy automatically expands or contracts the child list columns to fit the number of children for the current couple.
Before you can use the mapping feature, you have to geocode your locations, for which you will need to download Legacy's fairly large Geo database files for each region of interest. There are six of these - Africa, Americas excluding USA, Asia, Europe, Pacific Region, and United States - and we heirs of the British Empire will probably need all of them.
After downloading, you need to 'import' them - both are lengthy processes. It doesn't always work, failing to put many places in their correct locations, and sometimes being wildly out - parts of Warwickshire are apparently in the Caribbean. The recommended re-coding option doesn't work either, meaning that geocoding remains a myth to me. Millennia has been made aware of the problem and if it finds a solution, I will re-review the program.
In some quarters Legacy is considered to be one of the 'big three' heavyweight family history programs. This may be a mixed blessing. The other two are The Master Genealogist and Genbox, and while it's no doubt gratifying to Millennia to be put in this league, Legacy is far easier to use and has a much more intuitive interface. Instead Millennia would like it to be compared to other mainstream offerings like Family Tree Maker and RootsMagic, with which it compares well in its combination of features available.
Legacy 7 Deluxe edition costs about £29.95 (about £15) by download or the same plus shipping for the CD and manual (see www.legacyfamilytree.com). You can also buy a manual on CD or by download. S&N at www.genealogysupplies.com will sell you a Deluxe CD, manual and it's own extra resources CD for £38.50. The Standard edition of Legacy is completely free by download and can be converted to the Deluxe edition by purchasing an emailed key.