London University Roll of War Service 1914-1919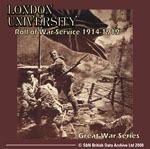 Originally published in 1921, this contains details of the military service of all Corps' officers, former officers and cadets who were active in the Great War. The awards received are also recorded, these details apparently having been extracted from the London Gazette.
The records of those who fell in the Great War give us more biographical information about education, career and circumstances of deaths. For example, Hector John Sutherland, a Captain in the Oxfordshire and Buckinghamshire Light Infantry was the son of J Sutherland of Merstham, was educated at Battersea Polytechnic and died of bronchitis on 2nd February 1917, and is now buried at Grove Town, Meaulte.
Illustrated with photographs, this details the Great War service of 4,276 officers and a further 4,218 former cadets.
£17.95 (plus £2.50 p&p) from S&N Genealogy Supplies, West Wing, Manor Farm, Chilmark, Salisbury, SP3 5AF.
[t] 01722 716121
[w] www.genealogysupplies.com.
CD presented in Acrobat PDF
Mac and PC Compatible
Fully bookmarked & searchable