RootsMagic Family Atlas - Software Review by James Taylor
Family Atlas is Windows place-plotting software from RootsMagic, publisher of RootsMagic 3, Personal Historian, and Family Reunion Organizer.

You can buy it in the UK from S&N Genealogy Supplies (GenealogySupplies.com or 01722 716121) for £32.45 (including p&p).

To run Family Atlas you'll need Windows XP/95/98/ME/NT and 2000; 256MB RAM; 200MB hard drive space; and a CD drive.
You could use Family Atlas by itself but it's easier if you use it in conjunction with existing data from your family tree software. It works by importing your family files, then geo-coding your ancestral places (allocating latitude and longitude to them) using its integral 3.5 million-name world location database. It can then plot these on a map, revealing your family's geographic origins. In addition to working with the RootsMagic programs, it also works with Family Tree Maker, Legacy, Personal Ancestral File 5, and any GEDCOM file.
The world location database can be displayed as a gazetteer that will also show you the exact location of that place on the map and a list of the places you can find nearby. You can choose a place and Family Atlas will show all the events from your database that are within a specified distance from it.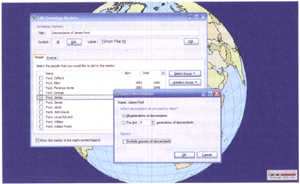 Family Atlas
can import a list of places to display from your genealogy program, or from a text or Excel file.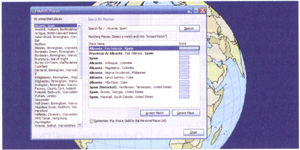 Family Atlas
can plot the locations of events from your genealogy program.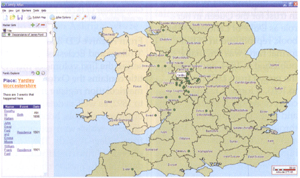 Genealogy markers can pinpoint events or places from your family history.
In Family Atlas, locations are created from sets of markers. You choose what the marker will look like, what data it represents, and where it will appear. You can, for example, use different marker shapes and colours to differentiate places of birth, marriage or death. You get two types of marker: genealogy markers and place markers. You must import a genealogy file before you can create a genealogy marker set. Place markers aren't associated with your genealogy data and can be placed wherever you specify.
Markers can sub-divide your categories to show, for example, where people with the surname Jones are buried, or where an individual's ancestors were born. You can also easily annotate your own custom markers, which are automatically tied to the genealogy data. Markers can be added by hand, making possible historical marker sets like 'Civil War battle sites'.
Both hand-entered and data-based markers can easily be combined on the same map. You can also add text, lines, text bubbles, photographs and other objects. Sets of markers can be saved for re-use, and you can have several such databases. You can also create an unlimited number of atlas files which contain your markers, genealogy data, and map information.
You get the choice of plotting on a globe you can rotate or as a flat projection with a choice of Cartesian or Mercator. Both distort area but there's little practical difference here. You can scroll and you can zoom in or out to see additional detail like national and county boundaries (but not topographical features). As well as viewing your maps on screen, you can also save them as graphics, export them in PDF form, or print them out for inclusion in your family book or publication in your web pages.
There are a couple of irritations. The first one is nomenclature - if there is more than one place with the same name and Family Atlas canno be sure which one to use, it offers them all to you for you to choose. Unfortunately it does little to differentiate thmem, especially when they are in relative proximity - two Billesleys in Warwickshire for instance.
The other problem is that the UK counties used are given the post-1974 administrative authority names and boundaries, whereas most family historians probably use the historic county names and boundaries, which will not, therefore, be recognised. Once you've 'okayed' a selection, you can force Family Atlas to use those coordinates. Also, you don't have to validate your place locations all at once - you can call up genealogy places from the menu, click on the geo-code button, and you'll be able to match any places that still need to be done.
You might find that Family Atlas is not the unmitigated fun the advertising promises, but few things ever are. Once over the boring data validation process, it's a useful and versatile way of seeing where your family came from and where they settled.
Find Out More:
Family Atlas - available from GenealogySupplies.com