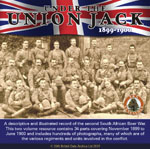 Under the Union Jack 1899-1900
Under the Union Jack was a weekly newspaper first published on 11th November 1899, with the objective of describing and illustrating the Second Boer War campaign in South Africa. It was then re-issued as a set of indexed volumes, the first two of which contain the 34 editions (to 30th June 1900) that are reproduced on this CD.
The 824 pages included on the CD are dominated by photographs, both formal and informal. The text gives an interesting account of the military conflict through contemporary eyes, and stands alongside a daily news bulletin, some of which originates from War Office reports. Those researchers who like to scour such publications for surnames should note that only senior officers tend to get a personal mention - there are no lists of casualties or the like.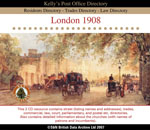 Kelly's London Post Office Directory of London 1908
The bulk of this 3,556 page directory is made up of the ubiquitous street directory, which includes businesses as well as thousands of householders.
The trade and professional and commercial directories ar also prominent in listing those who were in business and commerce. There then follows many other directories: law, court and banking to name a few.
As well as giving a snapshot of life in the capital, this answer many questions. Schedules abound of schools and their teachers, churches and their clergy, workhouses and their staff, banks and their managers, and government offices and their staff: all relevant when building up a profile of an area in which an ancestor lived.