Deeds that Thrill the Empire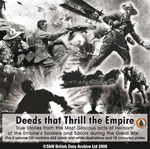 Originally published in two volumes in the early 1920's and amounting to nearly 900 pages, this book is said to contain 'True Stories of the Most Glorious Acts of Heroism of the Empire's Soldiers and Sailors during the Great War'.
The articles are lavishly illustrated and there are a substantial number of photographs and line drawings of named individuals. Indexed by both regiment and battalion, and by name, the text mentions something approaching 2,000 men. Suprisingly, soldiers feature as well as officers. One of the many examples if the write-up about 'How Private Thomas Newcombe of the 3rd Battalion Leicestershire Regiment won the DCM'.
The photographs of the various medals awarded during the Great War and the background notes are particularly interesting. Meanwhile, the articles are a reminder of the bravery and courage our ancestors exhibited nearly 90 years ago.
£19.95 (plus £2.50 p&p) from S&N Genealogy Supplies, West Wing, Manor Farm, Chilmark, Salisbury, SP3 5AF.
[t] 01722 716121
[w] www.genealogysupplies.com.
CD presented in Acrobat PDF
Mac and PC Compatible
Fully bookmarked