The History of Commoners of Great Britain and Ireland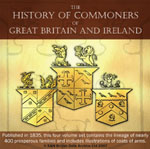 Published in 1835, this four volume set catalogues the lineage of hundreds of families and includes illustrations of coats of arms.
It is a genealogical and heraldic history of the commoners of Great Britain and Ireland, enjoying territorial possessions or high official rank; but uninvested with heritable honours.
Commoners are people who do not fall under the categories of either being a monarch or a peer (someone who has inherited a title such as duke, marquis, earl, viscount, or baron).
This CD can help you find information on prosperous relatives and their heritage. It is fully searchable and printable, and includes illustrations. The text has been digitally enhanced to ensure readability.
The CD is available from www.genealogysupplies.com for £17.95.