Sussex Records 1438-1603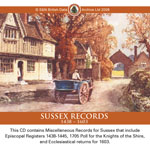 Buy it for...
Miscellaneous church records for Sussex from 1400s onwards
Publisher: S&N British Data Archive
w. www.genealogysupplies.com
t. 01722 716121
Price: £14.45
Those of you with roots that stretch back to 15th-century Sussex may find this latest offering from S&N particularly useful.
The CD contains a PDF of a 1904 book published by the Sussex Record Society featuring Ecclesiastical Returns from 1603; an index of Sussex references in the Harleian Manuscripts; and extracts from the Episcopal Register of Bishop Praty, from 1438 to 1445.
Though most of these refer to events taking place within the church, there are an abundance of names mentioned. Most interesting of all is a poll from 1705 that features prominent members of communities who voted for knights to represent the county. There are also indexes to both places and names that appear.
Though not the most informative record, resources like this form the backbone of your research as you go further back in time and are well worth reading to see if you can uncover some vital clues about your family at the time.