Family Tree Magazine Articles - July 2007
This Month: 1871 Census for Huntingdonshire, Parish Records, and Family Historian.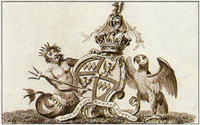 The Sandwich coat of arms.
1871 Census for Huntingdon, Huntingdonshire
Hitchingbrooke House sites close to the Huntingdonshire-Cambridgeshire border, and was owned by the Cromwell family until 1627, at which point it was bought by the Montague family. Arguably, one of the most interesting of the Montague family was John the 4th Earl of Sandwich, who held some impressive positions, such as First Lord of the Admiralty, and who supported James Cook's explorations of Australasia and Polynesia. In return several islands were named after him, including the Sandwich Islands, later to become Hawaii.

The residents of the Earl of Sandwich's home. Although he does not appear to be residing in the house at the time, we can see his wife Blanche and his daughter Florence (RG10/1526).
The 1871 Census for Huntingdonshire and Rutlandshire is available on CD from www.britishdataarchive.com for £16.95 plus £2.50 UK p&p. Online transcripts, images and name indexes are available at www.thegenealogist.co.uk for some counties and census years.
Note that areas covered are based upon parliamentary boundaries which many not be the same as county boundaries. more information is available on the S&N website.
Parish Records for Buckinghamshire Volume IX
Track your ancestors back to the 18th Century and earlier using Phillimore's marriage indexes to the parish records. The parish records covered in volume IX are for the parishes of Broughton, Lathbury, Moulsoe and Newport Pagnell

.
Find your way around the parish records:
Browse the records by clicking on the places that have been bookmarked.
Alternatively, search for a person's name by selecting 'Edit/Find' on the Acrobat Reader menu bar (or use the shortcut 'Ctrl+F').
Type the name that you wish to search for in the 'Find' window and click 'Next'. For example, to look for 'Selena Simcoe', type in 'Simcoe'.
An entry should be found on page 122 of the Newport Pagnell sections. You will see that Selina Simcoe from the parish of Sherington married Mark Goode by license on 9th June 1827.
To see the range of parish record CDs, costing £5.95 per volume plus £2.50 postage, visit www.GenealogySupplies.com.
Family Historian
Family Historian was written by a leading UK family history software designer and it allows you to enter your family by drawing a tree. Full support is given for sources, notes, facts and linked multimedia elements. For researchers, version three provides support for:
queries and reports
charts and diagrams
Smart Trees
support for pictures and multimedia
100% GEDCOM compatability
Create websites and family tree CDs
internet search
support for sources
merge/compare facility
sophisticated query engine
installable fact sets (events and attributes)