Clandestine Marriages in the Chapel and Rules of the Fleet Prison 1680-1754 Volumes 1-3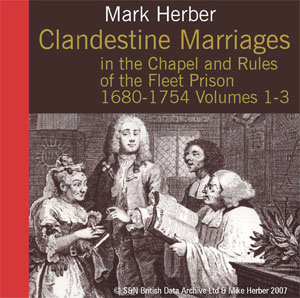 Mark Herber, solicitor; member of the Society of Genealogists and author of Ancestral Trails - the complete guide to British genealogy and family history, has transcribed a series of registers of clandestine marriages which took place in and around the Fleet Prison in London between 1680 and 1754. The original documents can be viewed at The National Archives.
The church laid down rules for marriage in the 13th century but marriages not complying with these rules, called irregular marriages, continued to be recognised by English courts. Irregular marriages involving some degree of secrecy were known as clandestine marriages. They were particularly common from the Restoration in 1660 until Hardwicke's Marriage Act came into effect in 1754, which required all marriages to conform to the rules of the Church of England.
Herber's transcripts are supported by a wealth of descriptive and explanatory information and a foreword by John Titford. Indexes of surnames and place names make cross-checking easy and many entries include references to associated documentation.
At £19.95 plus £2.50 p&p from www.genealogysupplies.com or S&N Genealogy Supplies, West Wing, Manor Farm, Chilmark, Salisbury, SP3 5AF, this is a relatively inexpensive discourse on Fleet Marriages plus a complete transcription of the data.