Clandestine Marriages in the Chapel and Rules of the Fleet Prison 1680-1754, Volumes 1-3. Transcribed by Mark Herber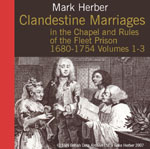 The registers of the chapel of London's Fleet Prison, and of the chapel in its immediate vicinity, record the details of some 250,000 clandestine and irregular marriages that took place in the period between 1690 and 1754. This is a significant proportion of all of the marriages that took place in England during this period, and while many of the brides and grooms came from London or Middlesex, others came from further afield.
These marriages registers are held at The National Archives, and some of them were transcribed by Mark Herber and published in the late 1990s. All three volumes of Herber's work are included on this CD. Irregular marriages can be the clue to breaking through a brick wall. If you're missing a marriage in the early 18th century, you might just find it here.
£19.95 (plus £2.50 p&p) from S&N Genealogy Supplies, West Wing, Manor Farm, Chilmark, Salisbury, SP3 5AF.
[t] 01722 716121
[w] www.genealogysupplies.com.
CD presented in Acrobat PDF
Mac and PC Compatible
Fully bookmarked & searchable