Huguenot Parish Registers 1684-1807: Bristol, Stonehouse, Plymouth, Thorpe-le-Soken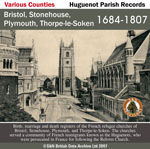 This CD contains two books of transcriptions of French refugee church registers originally published by The Huguenot Society of London in 1912. The first is a transcription and combined index to the registers of three West Country locations - Bristol, Stonehouse and Plymouth - while the second comprises the registers of Thorpe-le-Soken in Essex.
The introductions are in English, but the registers are transcribed in French. It's not hard to pick out the salient details and coverage of each spans baptisms, marriages and burials largely within the 18th century. Many of those detailed were seafarers originating from the provinces of Saintonge, Aunis and Poitou.
£17.45 (plus £2.50 p&p) from S&N Genealogy Supplies, West Wing, Manor Farm, Chilmark, Salisbury, SP3 5AF.
[t] 01722 716121
[w] www.genealogysupplies.com.
CD presented in Acrobat PDF
Mac and PC Compatible
Fully bookmarked & searchable