Family History Software:
Tried and Tested
S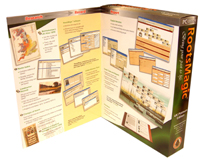 oftware Packages are the most practical way to order your genealogical findings without using multiple notebooks or folders, and can save you the hassle of looking for old scraps of paper or lost documents. Each software package is designed to generate family trees, and to organise your research. There are also multimedia functions that enable you to upload photographs, certificates, etc, and the programs are capable of generating charts and reports, based on your preferences.
After reviewing popular family history software, which included Family Historian, Family Tree Maker, Legacy, and Heredis, the one that came out on top, scoring higher in the categories than the others, was Roots Magic Platinum Edition, which included the following scores and review:
Roots Magic Platinum Edition, £49.95

This programme is ideal for novices. It boasts great book reports and allows you to upload pictures in narrative reports. The latest edition comes with seven free data CDs. RootsMagic has one of the most user-friendly interfaces and comes with a clear, concise instruction manual.
You can upload pictures in all of your reports, and you can also print PDFs of your family tree with pictures to show your family.
Data Entry and Handling: 5/5
Web-based User Support: 4/5
UK Friendly: 5/5
Reports and Charts: 4/5
Good for the Novice: 5/5
Multimedia Handling: 3/5
Good for the Expert: 4/5
Introductory Help: 2/5

Total: 32/40
Ed. An interactive context sensitive help feature makes this particularly easy to learn. Just press F1 to get help on whichever feature you're using.
For more information about RootsMagic, you can go to RootsMagic.co.uk.
RootsMagic is available to buy online from GenealogySupplies.com.