Kathy Chater looks at some recent CDs which capture the wealth of data on people and places through the ages
Wherever they lived, whatever they did, many of our ancestors' names were documented in records. More and more of this material is now on CD to help genealogists fit another piece into the family history jigsaw puzzle.
Putting a Spin on the Past
For instance, poll books published after en election listed the candidate(s) for whom each elector voted. As there were no secret ballots until 1872, this information was public knowledge, although it would have been just a partial list of male residents because in general only men who owned property worth over £10 in annual rateable value had the vote.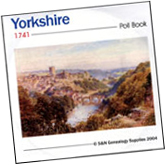 However, the requirement varied greatly between different constituencies and the Yorkshire 1741 Poll Book (S&N Genealogy Supplies, £10.95) is typical in listing where voters lived and where they owned property. This is useful in pointing researchers to other sources of information.
Originally published in 1929, the transcription of the Court Rolls of the Manor of Hornsey 1601-1701 (S&N Genealogy Supplies, £12.95) is equally useful. Hornsey has long been absorbed into London's suburbs, but was then in rural Middlesex. The originals are in Latin and, to judge by the page reproduced as a frontispiece, the transcribers faced difficult handwriting.
The translation is supplemented by information about the parish as well as the manor. Footnotes drawn from other documents, such as lay subsidies and City records, give more detail about landowners. The court records themselves often include family relationships. Hearings about anti-social behaviour, such as people throwing rubbish on to the highway, mention people lower down the social scale.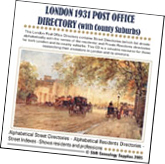 Moving to more modern times, anyone with ancestors who lived in the metropolis between the wars may find the London 1931 Post Office Directory (with County Suburbs) (S&N Genealogy Supplies, £12.95) helpful. Residents in the capital were highly mobile, so the Find facility on this disc will make searching the whole directory easy if you don't know where a particular person was living at the time.
A slightly later publication, London 1935 Post Office Street Directory, also £12.95, lists streets alphabetically, with the names of residents and their occupations.
Pedigree Pride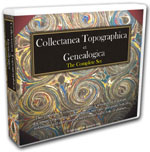 The Collectanea Topographica et Genealogica (S&N Genealogy Supplies, 8 CDs, £17.99 per CD or £69.95 for the set) was a magazine published between 1834 and 1843, which included genealogical and historical subjects, such as family pedigrees, wills, registers and deeds, and church accounts.
This being a 19th Century publication, the emphasis was on medieval times and the aristocracy, but it included transcripts of parish registers and other documents that mention the less well connected. Each volume is indexed and there is a synopsis the contents of all eight.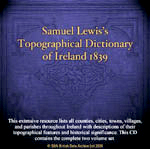 Irish Ancestors
S&N Genealogy Supplies has released Samuel Lewis's Topographical Directory of Ireland 1839 (£17.45). It includes descriptions of places and mention of prominent inhabitants. It also has a table for converting Irish miles to British ones - something that may be useful to those who didn't realise there was a difference and have been puzzled about distances given in documents.
Memories of War
The War Illustrated was published in weekly parts during World War I. S&N Genealogy Supplies has produced all the volumes on nine discs at £9.95 per single disc, or £39.95 for the set, covering the period from 22nd August 1914 to 8th February 1919