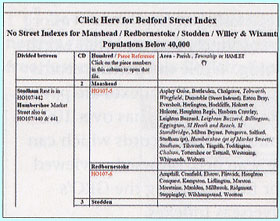 These CDs - a set of three - contain census information taken from the microfilm of the original page as written by the census enumerators. The microfilms have been scanned several times to give better quality images. Supplies as PDF files, they cover Bedfordshire as enumerated (ie defined by parlimentary boundaries).
Being images you can't copy extracts from them to paste into your own records, nor can you get your computer to search them. There is no seperate name index transcript yet, but you do get area indexes and street indexes which will point to the right Piece, Volume, and Folio numbers. Otherwise, it's a case of painstaking visual inspection. One benefit in having an image of the original document, is that you can make up your own mind about any indistinct entries and not have to rely on a third-party transcription.
As this is the 1841 census, the data is not as extensive as in later years. You get name; place of abode; age; sex; occupation; whether born in the county; or born in Scotland, Ireland, or foreign parts. Exact place of birth or a person's relationship to the head of the household wasn't recorded.