UK Maps Collection
This two CD set comprises over 100 high resolution maps, many in colour, covering parts of the British Isles, including some of the Channel Islands. The earliest maps date from the 1600s through to 1947, although the majority are from the 19th and early 20th centuries.
This serendipitous collection features maps from historical directories (such as Kelly's, Pigot's and Slater's), the Ordance Survey and other sources. There are many county maps (but not every county is represented), some town maps and smaller scale maps of England, Wales and part of Scotland. Where there are maps of more than one date covering a similar area, it is interesting to note the changes in some place and county names; also the disappearing open spaces and growth of towns on the larger scale maps. Using the zoom feature, it is possible to read the street names on some of the town maps.
The maps are bookmarked by counties and are fully printable.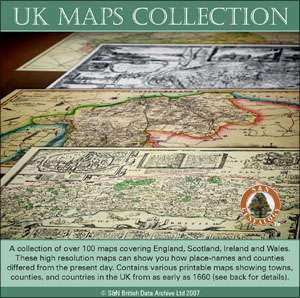 Compatibility: Adobe Acrobat Reader
Price: £17.95 plus £2.50 p&p
T: 01722 716121
E: sales@genealogysupplies.com
W: www.genealogysupplies.com
S&N Genealogy Supplies, West Wing, Manor Farm, Chilmark, Salisbury SP3 5AF