Haslemere & Hindhead
The Hill Country of the Surrey Borderland
This CD comprises a reproduction of Haslemere and Hindhead, The Hill Country of the Surrey Borderland, one of a series of official local council guides (not directories) called The Homeland Handbooks, begun in 1896 to provide information about local areas in Great Britain. This one dates from about 1918.
As well as the history and geography of Haslemere and Hindhead, there are similar chapters on other villages and towns in the surrounding area. Included are many local tales, traditions, legends, anecdotes and literary associations. There is a mass of local information and facts including several descriptions of churches and interesting places to visit, and a section on local rambles.
It also contains an Ordance Survey Map circa 1918 at a scale of one inch to one statute mile, many advertisements and some photographs and illustrations. This CD is bookmarked by major headings and pages may be enlarged and printed.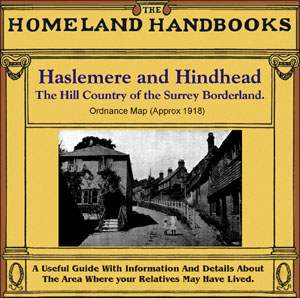 Compatibility: Adobe Acrobat Reader
Price: £12.95 plus £2.50 p&p
T: 01722 716121
E: sales@genealogysupplies.com
W: www.genealogysupplies.com
S&N Genealogy Supplies, West Wing, Manor Farm, Chilmark, Salisbury SP3 5AF